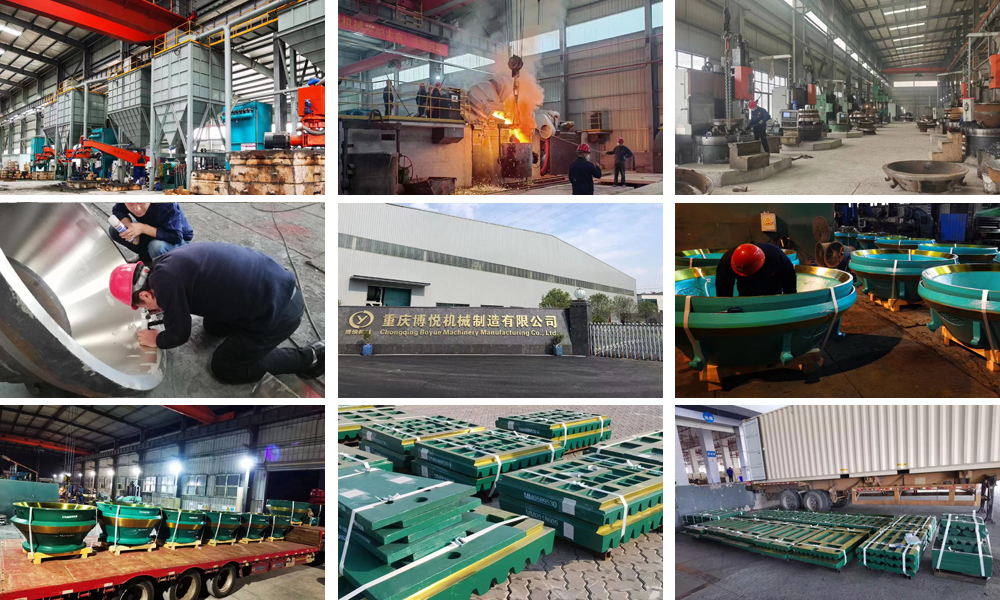 Chongqing Panglei Machinery Technology Co., Ltd is an ISO certified foundry, specializing in wear-resistant castings. Material options: Austenitic Manganese Steels, High Chromium White Cast Irons & Alloy Steels of various grades. The company, covering about 26,680 m², is located at Beidu Aluminum Industrial Park, Gunan street, Qijiang District, Chongqing City, and designed with annual capacity of 15, 000 metric tons. Our main products are Crusher Spare and Wear Parts for all prominent industry brands including Finlay, Sandvik, Fintec, Extec, Striker, McCloskey, Metso, Pegson and Powerscreen, etc.
How Can We Manufacture a Quality Crusher Wear Liner?
1. Our foundry has always been striving to maintain high standard in raw material sourcing since its foundation, ensuring the quality of castings at the very beginning. We never sacrifice the quality to win the market with "competitive" prices.
2. All the casting and forging processes in our foundry, from Molding, Melting & Pouring, to Heat-treatment and Machining, etc, are under strict control.
3. Our Foundry Manager has been in the industry since 1988, over 30 years' experience of manganese casting. And most of our well-trained & skilled workers are also in the industry and with us for many years.
In one word, we have the established expertise and capability to manufacture quality manganese crusher liners. Welcome to visit our foundry and we look forward to cooperating with you!