Manufacturing Process & Quality Control
Raw materials for melting are purchased under high standards. Temperatures are carefully controlled during the whole process to achieve find grain structure for the casting. Samples are taken to verify material analysis and adjust if necessary. Inspected samples will be kept for at least 3 years for traceability.
After rectified and polished, Castings will be machined strictly to the drawings for perfect fitment to the machine. Then the QC department will carry out dimensional inspection and submit the dimensional inspection report.
High standard of raw material sourcing to keep the quality at the very beginning. Every manufacturing process, from drawing-checking, pattern-making, casting, to heat-treatment and machining, etc, is strictly controlled. More importantly, our foundry is equipped with a group of well-trained staff, with long established expertise in casting.
With thousands of ready-made patterns in the inventory, we can put them into production directly, shortening the lead time and saving your pattern-making cost. Finished products are packed to international standard for sea, air, railway & truck transportation. Door to door service is available, which means we can delivery the products to your warehouse.
Located in Chongqing, the company enjoys a very sophisticated logistic system. Firstly, Chongqing Jiangbei International Airport (IATA: CKG, ICAO: ZUCK) is one of the biggest airports in China. Secondly, being the start of the Chongqing–Xinjiang–Europe Railway, railway transportation is available to Kazakhstan, Russia, Belarus, Poland, and finally Duisburg, Germany. Thirdly, Inland transportation to Shanghai Port takes just about 3 days.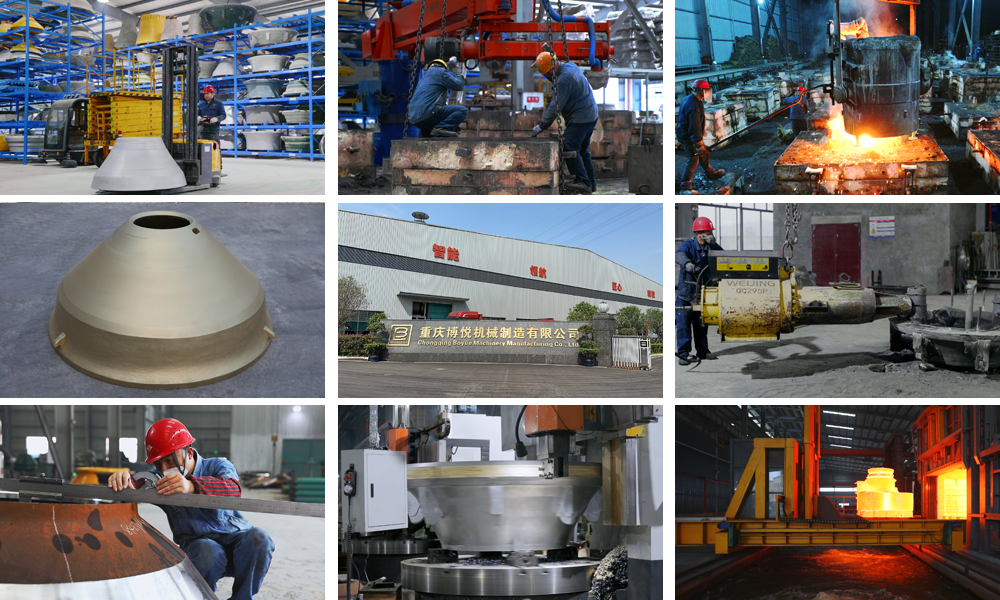 We are ISO certified foundry, specializing in wear-resistant castings. Material options: Austenitic Manganese Steels, High Chromium White Cast Irons & Alloy Steels of various grades. The company, covering an area of about 26,680 m², is located at Beidu Aluminum Industrial Park, Gunan street, Qijiang District, Chongqing City, and designed with annual capacity of 15, 000 tonnes at the first stage (Full Capcity up to 30, 000 Tonnes per Year).
Our main products are Crusher Spare and Wear Parts for all prominent industry brands including Finlay, Sandvik, Fintec, Extec, Striker, McCloskey, Metso, Pegson and Powerscreen, etc.
Our Foundry is located in Chongqing City, southwest of China. Airport: Chongqing Jiangbei International Airport.
Sales: 9-1 Room of S1-3rd Building, Tongjing Road 5, Nanan District, Chongqing, China
Manufacturing: Beidu Aluminum Industrial Park, Gunan street, Qijiang District, Chongqing, China
Phone: +86 23 62650290
Mobile/Whatsapp: +86 18875313910
Email: [email protected]